CV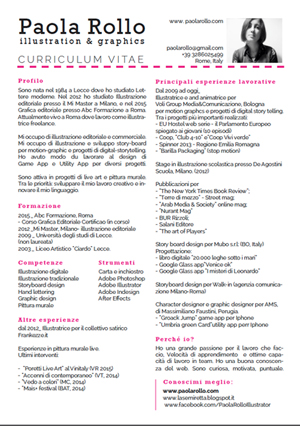 Profile
I'm a freelance illustrator based in Rome.
I was born in 1984 in Lecce, Italy, and I studied there Italian Literature.
In the 2012 I studied editorial illustration at the Mi Master, in Milan.
This year I studied editorial graphic design at the Abc Formazione school in Rome.
I work on illustrations for magazines, childhood, and advertising; I develop storyboards for advertising or animation videos.
I'm also an illustrator and animator for motion graphic and digital-storytelling videos.
I worked also on Game App and Utility App design.
Skills
– Digital illustration
– Traditional illustration
– Graphic design
– Motion graphic
– Storyboard design
– Hand lettering
Tools

– Adobe Photoshop
– Adobe Illustrator
– Adobe Indesign
Education
– 2015_ Abc Formazione school – editorial graphic design, Rome, Italy.
– 2012 _ Mi-Master – editorial illustration, Milan, Italy.
– 2003 _ Art school "Ciardo", Lecce, Italy
– since 2003 _ Modern Letters – University of Lecce, Italy (undergraduate)
Work experience
Since 2009 at now_ illustrator and animator at Contenuti & associati Comunication Agency (now Voli Group Media Comunication Agency – BO, Italy) for motion graphics and digital story telling projects. Most important work with them:
– EU Hostel web serie for the European Parliament (10 episodes)
– Coop, "Club 4-10" and "Coop Vivi verde"
– Spinner 2013 – Emilia Romagna region
– "Barilla Packaging" (stop motion)
– Barilla "Distribution and sale"
2012 _ Illustrator stage, De Agostini School Italy
Publication on:
– "The New York Times Book Review";
–  Cover for "Plus24", Sole 24 ore group
– "Terre di mezzo" – Street mag;
– "Arab Media & Society" online mag;
– "Nurant Mag" (MI, Italy.2014);
– Cover for Bur Rizzoli, Italy;
– Cover for Salani, Italy.
– "The art of Players", (2014)
Story board designer for Walk-in, marketing & communication agency, Italy
Story board designer for Apload, marketing & communication agency, Italy
Story board designer for Mubo s.r.l: (BO, Italy) for the projects:
– "20.000 leagues under the sea" digital book project
– "Venice ok" Google Glass app project
– "Leonardo's mysteries" Google glass app project
Illustrator for Alessandra Fedeli Jewels (RM, Italy)
Character designer and graphic designer for AMS, Massimiliano Faustini (PG,Italy):
– "Groack Jump" game app for Iphone
– "Umbria green Card"utility app for Iphone
Other experience
Mural painting
Body painting
Live painting
The latest live mural painting experiences:
– Poretti Live Art for Birrificio Angelo Poretti stand during Vinitaly Exhibition. (Vr, Italy, 2015)
– Accenni di contemporaneo (VT, Italy, 2014)
– Vedo a colori (MC, Italy, 2014)
– Mais+ festival (BAT, Italy, 2014)
Why me?
Great passion for illustration and graphic arts. Fast learning and quick adaptation. True faciliting to sharing and team working.
Goog knowledge of the web. Curious and motivated. Attention to detail and puntuality.
See more…
on my blog: www.lasemiretta.blogspot.it
on my facebook Page: www.facebook.com/PaolaRolloIllustrator